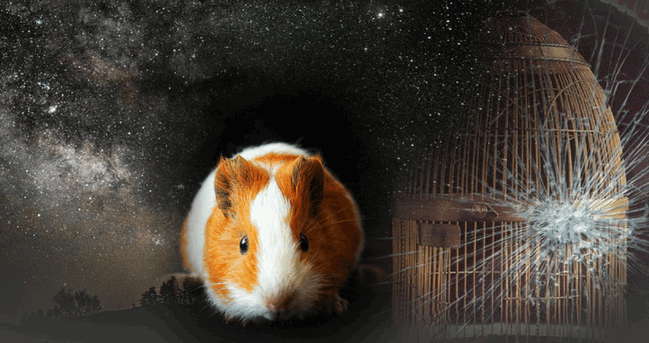 Reviews about Crack and "Si todo Hiciera Crack"
Comentarios y opiniones sobre Crack y "Si todo hiciera Crack"
The following are some examples of reviews found recently on books and more generally on the Internet about Crack. Some of them are in languages other than English and Spanish but you can still get an idea of their meaning by using Google translate. At the end we also include a couple writen on the seventies while the band was active.
Incluímos en esta sección algunos ejemplos de entradas en publicaciones especializadas sobre Crack así como comentarios leídos en Internet. Para algunos en otros idiomas distintos del español o el inglés es fácil tener una idea del contenido de los mismos a traves de Google translate. Al final incluimos también copias de un par de viejos artículos aparecidos en la prensa de la época.

Edición italiana de la revista RollingStone / RollingStone magazine (italian version)
Un disco che gli amanti del prog più sinfonico e lussureggiante adoreranno...Si todo hiciera Crack è uno dei gioielli del rock progressivo...Da segnalare la doppietta killer di Descenso en el Mahëllstrong e della mini suite Marchando una del Cid, due autentiche perle prog, con tutti gli elementi al posto giusto che non mancheranno di mandare fuori di testa gli appassionati.
Revista This Is Rock / This Is Rock (Spanish magazine)
'Si Todo Hiciera Crack' se publicó en 1979 y es una joya del art rock y rock sinfónico (sí, entonces no existía el término progresivo). Hoy dirían que es symphonic prog. Un disco que fue una explosión de sensaciones, donde se alternan voces masculinas y femeninas, flautas, sintetizadores, un increíble dominio de las técnicas de guitarra. Una banda sonora perfecta para un mundo de unicornios y princesas....El grupo ha existido por más de 20 años, siendo el equivalente español de YES o Locanda Delle Fate, pero aún poco conocido en el escenario mundial...
gnosis2000.net
' Greg Northrup 3-November-2001 Si Todo Hicera Crack My brief exploration of the Spanish scene has certainly paid off in delivering a couple masterpieces to my stereo. Upon hearing Si Todo Hiciera Crack, it is clear that Crack was a classic symphonic progressive band of the highest order, probably heavily influenced by Italian greats like PFM or Locanda delle Fate. It is grandiose, orchestral, sweeping music with heavy classical flourishes, varied instrumentation and a dramatic flair.
Although Si Todo Hiciera lacks the regional and ethnic influences of say, Mezquita, the band does mix what seems to be a Spanish folk feel from time to time. For the most part though, this is just phenomenal symphonic with a heavy emphasis on beautiful, romantic melodies and dramatic development of themes into mammoth climaxes. The band isn't afraid to rock out from time to time either, allowing electric guitar to fire away beneath the shimmering pianos and cascading keyboard and flute themes during the emotional peak of any given track...
Progressive Rock Central.com
Two bands from northern Spain, Crack and Bloque, released essential albums during the 1970s. The short lived Crack (from Gijón in the Asturias region) released Si todo hiciera Crack, an album that, unlike other bands in Spain, showed influences from Italian and British progressive rock...
Exposé.org Crack — Si Todo Hiciera Crack/
"Probably one of Spain's finest examples of majestic and powerful symphonic progressive, Crack was maybe one of the most Anglo styled of the Spanish bands, although there are obvious cultural references that must not be ignored. With male and female vocals, flute; excellent use of guitars and synthesizers; and a warm and dreamy atmosphere; Crack show that they are an instant winner for symphonic rock fans."
Elcomercio.com Periódico de Asturias / Spanish newspaper from Asturias
"La mítica banda gijonesa duró poco (1978-1980), pero dejó su impronta con un disco, 'Si todo hiciera Crack', alabado en todo el mundo. 40 años después..."
laguitarradelasmusas.com Crack - Descenso en el Maëlstrom/
"Con todo, aquellos que amamos el rock progresivo tenemos a este disco en los altares; en mi opinión es uno de los mejores álbumes españoles de rock sinfónico que existen, y probablemente aún hubiese podido ser..."
Artículo de Wikipedia sobre Crack / Spanish Wikipedia article on Crack
"Crack fue un grupo español de rock progresivo y sinfónico formado en 1978 y disuelto en marzo de 1980. ​ormaron parte de la oleada de grupos de rock progresivo y sinfónico de la época de esplendor del rock progresivo español"... "Cuando acudieron al estudio a grabarlo el productor les impuso una condición: recortar los larguísimos temas para llegar a un número razonable. Así pues,la primera tarea fue recortar esos temas y retocar para encontrar una cierta coherencia a lo que iba a incluirse en el disco. Se acordó dividir "El Cid", un tema muy largo, con mucha épica sinfónica en tres temas que claramente podían quedar diferenciados: «Descenso en el Mahëllstrong», «Marchando una del Cid» y «Epílogo».A «Amantes», «Si todo Hiciera» y «Cobarde» también hubo que recortarlos...
Progarchives.com
"For those who love lush and beautiful symphonic progressive rock then may I suggest you swing a copy of CRACK's classic "Si Todo Hiciera". This late 70's offering is one of Spain's greatest contributions to the prog genre and would certainly appeal to all fans of 70's Italian prog. CRACK are a full ensemble who play some real tasty keyboard driven symphonic prog and manage to create some beautiful lush atmospheres. Along the way we are treated to some solid guitar, bass and drum interplay. Vocals are sung in Spanish and are very well done with loads of harmonic passages. Fan of the mellotron will also enjoy this release as CRACK use it from time to time throughout the album. This is one of those albums which is a real find and is full of great memorable melodies. Sound quality is very solid and it actually has a very fresh feel to it not sounding overly 70's"
babyblaue-seiten.de
"Immer wieder schön, wenn man mal wieder für sich einen Schatz der Vergangenheit neu entdeckt. Schenkt man verschiedensten Quellen Glauben, so lieferten die aus dem spanischen Gijon kommenden Crack mit "Si todo hiciera" einen der südländischen Klassiker im Bereich des sinfonischen Progressive Rocks ab. Einigermaßen objektiv betrachtet kann die Band diese Vorschusslorbeeren mühelos einlösen, denn ihr 1978 aufgenommenes Album braucht sich keineswegs vor der damaligen Konkurrenz zu verstecken.
Eingehüllt in ein luftiges Klangbild, geprägt von vielen wunderbaren Melodien, geben auf "Si todo hiciera" vor allem Flöte und differenziert eingesetzte Analog-Keyboardsounds die Richtung vor. Ab und zu kommen einige Gitarrenausflüge hinzu, jedoch bleibt das Album von vorne bis hinten in einem hochmelodischen, sehr verspielten Sound, mit leicht südeuropäischem Pathos verhaftet. Durch Tempovariation, dem Spiel mit fragilen, akustischen Passagen, sowie ausladenden Soloteilen kommt jedoch trotz aller Melodieseeligkeit keinerlei Langeweile auf, sofern man ein Faible für diese inhaltlich eher leichtgewichtige, harmonische Version des klassischen Progressive Rocks hat."
progrocks.gr
"In 1979, some of the albums that stood out were: the debuts of Mezquita and Cai, the second albums of Azahar (Azahar) and Vega (Jara), Sombra y Luz, the third album of the great Triana (although it is nothing like the first two) and the fourth and last album of the Catalan prog-fusion band Iceberg (Arc-en-ciel). Best of all, however, is Crack's Si Todo Hiciera Crack by Gijon, a European progressive symphonic rock gem, with lyrics in Spanish and RPI-style music with a perfect combination of mellotron and flute. Unfortunately, this was their only album, although their legend has remained intact to this day..."
planetmellotron.com
"Crack's sole album, 1979's Si Todo Hiciera Crack, is a masterpiece of Spanish progressive, gentle lyrical passages alternating with fiery unison sections. There's a slight 'Spanish' feel to the music (fair enough, really), albeit not nearly as overtly as, say, Iman, Califato Independiente, with a real edge to their piano-driven compositions, marking this as one of the best albums from Spain's late-'70s progressive scene. Plenty of interesting synth work on several tracks, plus, of course, shitloads of Mellotron (as you can see, a rare MkV) from Mento Hevia..."
rottersclub.net
"Di questo periodo (1979 esattamente) fa parte lo splendido album dei Crack intitolato Si todo hiciera Crack. Dico splendido perchè questo disco è veramente notevole ... Descenso en el Mahellstrong, semplicemente stupenda: grande inizio sinfonico e delicato, senza batteria, con pianoforte, basso e chitarra acustica; ma qui cresce il grande stile progressive, con un affascinante cambio di tempo degno dei migliori Jethro Tull (quelli di Thick as a brick, per intenderci). Parlo di Anderson e compagni perchè c'è un'accelerazione basso-batteria-flauto da brividi; una parte strumentale veramente imponente anche grazie al pianoforte ...Magari fosse durato di più questo album. E' quasi un capolavoro assoluto, ha tutte le peculiarità che fanno gigante un disco di rock progressivo, bisogna assolutamente ascoltarlo...."
hit-channel.com
"Το συγκρότημα από την Χιχόν κυκλοφόρησε ένα και μοναδικό album αλλά ήταν αρκετό για να θεωρείται ανάμεσα στα καλύτερα της Ισπανικής progressive rock σκηνής. Σε αντίθεση με τους Triana, Mezquita κλπ., οι Crack δεν έχουν flamenco επιρροές, αλλά είναι επηρεασμένοι από το Ιταλικό progressive rock (πχ. Premiata Forneria Marconi, Locanda delle Fate) και Βρετανούς πρωτοπόρους όπως οι Genesis, οι Jethro Tull και οι Yes."
Google translation: The band from Gijon released a single album but it was enough to be considered one of the best in the Spanish progressive rock scene... Unlike Triana, Mezquita, etc., Crack has no flamenco influences, but is influenced by Italian progressive rock (eg Premiata Forneria Marconi, Locanda delle Fate) and British pioneers such as Genesis, Jethro Tull and Yes"
Arlequins.it
"La musica che scaturisce con estrema fluidità dai solchi dell'LP è il risultato di una magistrale fusione tra le influenze dai mostri sacri del prog-rock anglosassone (vedi Genesis o Jethro Tull) ed una cultura musicale di stampo tipicamente latino. Ciò che ne viene fuori è un suono particolarmente elegante e raffinato, arricchito anche dall'ampia strumentazione impiegata dal gruppo e impreziosito da aperture e passaggi di rara bellezza....non nascondo la mia ammirazione per questo (a mio parere) grande album che non esito ad inserire nella non troppo ampia schiera dei dischi capolavoro del progressive rock. Non posso quindi fare a meno di consigliarne l'ascolto a tutti gli amanti del genere."
Youtube.com
"Tengo que decir que para mí es de lo mejor que se editó en España, y no unicamwente durante la época de los 70...Ello hizo que se convirtiese en una pieza de coleccionismo y a día de hoy en un disco de culto... En este caso la fama es más que merecida..."
es.paperblog.com
"Este disco es, sin duda, uno de los mejores álbumes de la historia del rock sinfónico español."
El retorno del gigante
"Hoy voy a traer una banda, a mi gusto la mejor banda española de toda la historia... Con un trabajo impecable, lamentablemente con un solo trabajo... un trabajo espectacular."
Youtube.com
"Esse disco aqui é considerado como uma das pérolas, um dos melhores discos de rock progressivo espanhol. O álbum possui composiçoes belíssimas..."
Amazon.com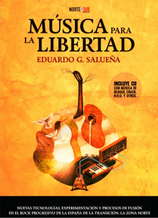 "Crack y el canon anglosajón del rock sinfónico (capítulo) ...Los parámetros formales más significativos del estilo de Crack se asemejan a los de las formaciones clásicas del rock progresivo sinfónico europeo... El caso de Crack no fue de los más evidentes dentro de este perfil, puesto que su música tenía más similitud con el rock anglosajón que con la música popular asturiana...El componente tímbrico es uno de los factores más cultivados por el grupo, lo que se hace patente en la mayoría de los desarrollos instrumentales o en los acompañamientos a los pasajes vocales. Los instrumentistas no suelen hacer gala de un virtuosismo desmesurado sino que tratan de buscar la fluidez en la composición...
Es aquí, dentro del circuito conocedor del rock progresivo y experimental de los 70, donde la labor de Crack está más valorada. Su disco aparece como una de las referencias más significativas de la producción española dentro de este mercado.
Debido a este reconocimiento a nivel internacional y su difusión, a través sobre todo de los canales más especializados de Internet, se nos permite una nueva nterpretación de su trabajo..."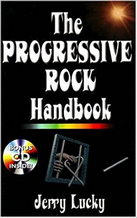 "No real influences in this band even if they come from Southern Spain. What you will find is some of Spain's finest examples of majestic and powerful symphonic progressive rock. Crack was a very Anglo styled band with flute, keyboards and female vocals"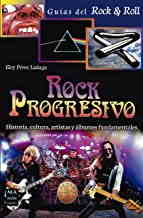 "Crack fue un grupo fuera de su tiempo. Su calidad musical es indiscutible y el único disco que grabaron es una de las joyas del rock sinfónico español...Si todo Hiciera Crack es un disco que fluye, lírico y melódico entre envolventes capas de mellotrón, moog y piano, una perfecta combinación de guitarras acústicas y eléctricas y el sonido de la flauta por encima de todo ello..."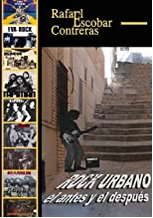 "Crack, grupo asturiano de Gijón, de finales de los 70, es uno de los mejores ejemplos de la majestuosidad y el potencial del rock sinfónico español...Su directo iba muy en la linea del sinfónico de la época con temas largos y cambios de instrumentos constantes, tomando como referentes a los grupos que escuchaban tales como Genesis, Yes, Camel o King Crimson..."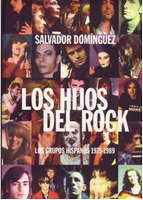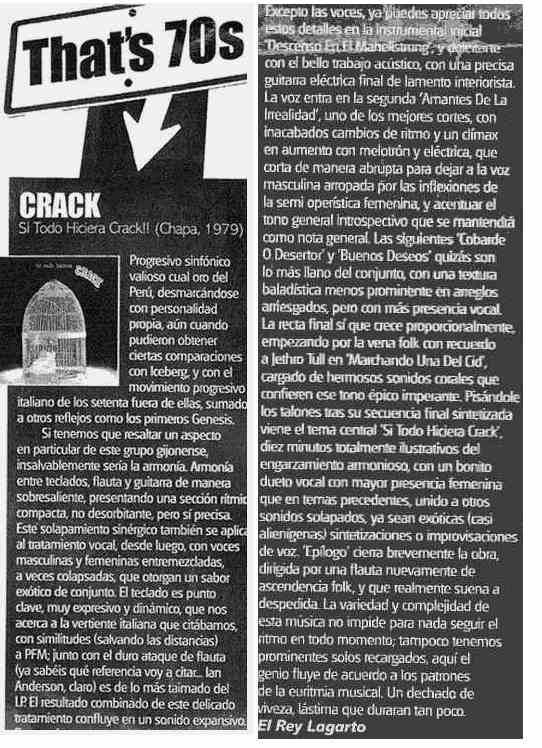 artículo "Si todo hiciera Crack" por Lagarto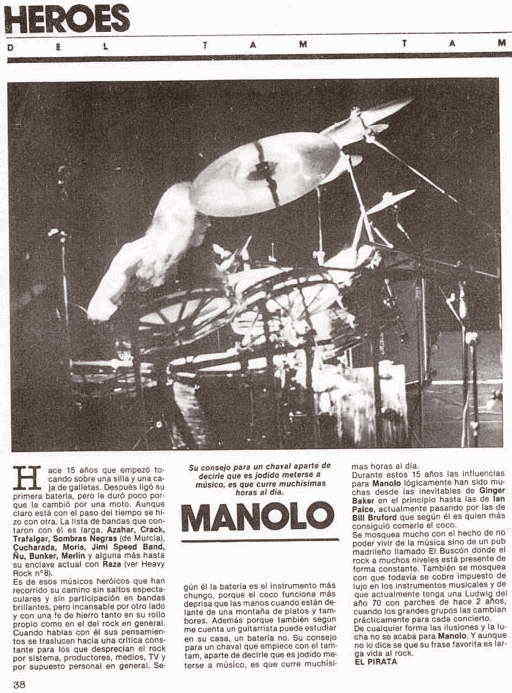 artículo sobre Manolo en Héroes del Tam Tam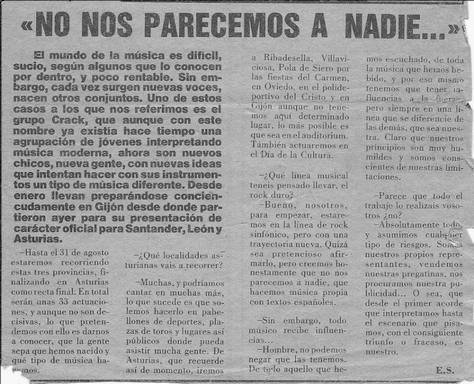 artículo de periódico de 1978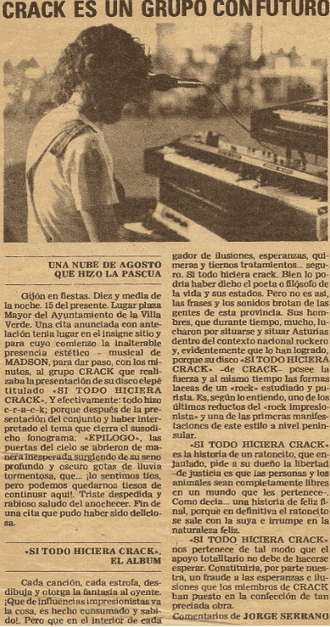 artículo de periódico de 1978
Crack.band 2021